Gebyar Kesehatan Reproduksi: Peran Media dalam Menyuarakan Kesehatan Reproduksi
Waktu dibaca:
2
menit
YOGYAKARTA (kabarkota.com) – Hak Kesehatan Seksual dan Reproduksi (HKSR) sejatinya bagian dari Hak Asasi Manusia (HAM) yang dilindungi. Hanya saja, publik belum banyak mendapatkan pemahaman yang komprehensif terkait hak tersebut.
Di sisi lain, media massa memiliki peran kunci untuk menyampaikan edukasi HKRS ini ke masyarakat yang seluas-luasnya.
Namun, jurnalis dari Aliansi Jurnalis Independen (AJI) Yogyakarta, Pito Agustin Rudiana menganggap, hingga kini belum banyak pemberitaan yang mengupas tuntas mengenai permasalahan tersebut.
"Jurnalis hanya memotret kasus pada hilir atau permukaannya saja, tidak mencoba mengulik penyebab atau hulunya," kata Pito dalam Edukasi HKSR melalui Gebyar Kesehatan Reproduksi, di Taman Bangirejo Yogyakarta, Sabtu (14/9/2019).
Akibatnya, lanjut Pito, informasi yang sering muncul di media lebih banyak menyoroti angka-angka kasus, ketimbang menyajikan informasi yang komprehensif tentang HKSR untuk masyarakat.
Namun itu menurutnya, tak lepas dari kurangnya literasi wartawan tentang permasalahan gender dan kesehatan reproduksi. Pito mencontohkan, ketika melakukan peliputan tentang kasus pemerkosaan, akar masalahnya justru sering luput dari pemberitaan
"Padahal, informasi yang clear dari jurnalis itu bisa berbahaya bagi masyarakat," tegasnya.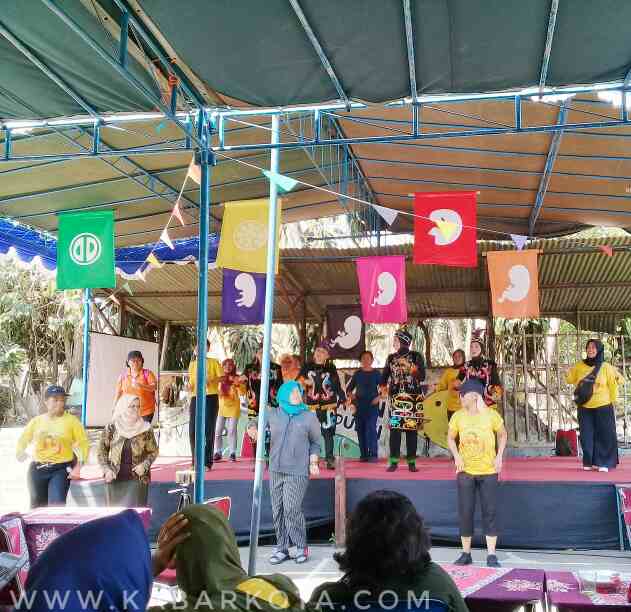 Sementara Direktur Mitra Wacana Yogyakarta, Imelda Zuhaida berpendapat bahwa derasnya arus informasi yang bisa diakses dari berbagai media, termasuk di internet tidak serta-merta membuat membuat masyarakat paham tentang HKSR.
Imelda menambahkan, perempuan dan perempuan muda yang rentan menghadapi masalah HKSR, seperti Kehamilan Tak Direncanakan (KTD) itu salah satu penyebabnya karena kurang akses informasi dan pemahaman tentang itu.
"Mereka lebih banyak mengakses informasi itu dari internet yang tidak selalu bisa dipertanggung-jawabkan kebenarannya.Kemudian baru mereka sharing ke teman-teman sebayanya. Jadi larinya bukan ke keluarganya," sesal Imelda.
Hal itu, kata Imelda, yang justru berakibat fatal bagi keseharan reproduksi mereka, atau bahkan mengancam keselamatan jiwa mereka, saat menghadapi permasalahan ataupun melakukan tindakan-tindakan untuk mengakhiri masalah KTD.
Oleh karenanya, Mitra Wacana bersama Yayasan Ipas Indonesia menggagas Program penguatan Reproduksi Terintegrasi berbasis masyarakat. Pihaknya juga menggandeng Dinas Kesehatan Kota Yogyakarta, melalui layanan kesehatan reproduksi di puskesmas-puskesmas.
Imelda mengaku, hingga sekarang Mitra Wacana telah mendampingi masyarakat dari 10 kelurahan di kecamatan Tegalrejo, Jetis, dan Mergangsan Kota Yogyakarta.
"Kuncinya, dengan menjadikan mereka sebagai subyek dalam mengkampanyekan HKSR ini di media," jelasnya. (Rep-01)
(Sumber: https://kabarkota.com/pemahaman-minim-hak-kesehatan-seksual-dan-reproduksi-terabaikan/ )
Easy Approval Cash Advance Loans With Instant Approval – Despite Bad Credit
Waktu dibaca: 3 menitThere are many loan options available that do not entail you to apply your car title as capital. There are a so many payday loan providers online locations would be advisable to compare the kids.
Coping up unforeseen financial situation is hard to do but no one can avoid it because it is part of our life. The good thing is that getting out of such situation is easy through the help of getting cash advance. Although it is difficult to deal with day to day living with insufficient funds, you can still find ways to get over the financial restraints. However, before you decide to get cash loan it is important to consider few things that is relevant in making your decision.
Another method of getting instant cash is to apply for online payday loans. The first method requires you to go personally to the office. This one allows you to do it online from the comfort of your own home. You can choose among several online providers and have loan amount transferred to your account.
No credit check will be done and therefore people who have bad credit should not worry when applying for a payday cash advance loan. Any amount of credit can be approved with ease. No faxing of documents of any kind and the entire process can be done online. The result is almost instant.
With the advent of the internet a payday loan application can be made online in minutes. If you complete the loan application in the company offices you will have the peace of mind of knowing they have your application and are assessing it.
Instant payday advance is an instant personal loan that is intended for a fast payback, usually the next payday. It is fast; hassle free and with a low interest from the competition of more than 1000 fast payday cash loan lenders you are pretty much assured of a surefire approval. This fast cash payday is quick and simple. It is a same day cash loan that will get you money now!
Getting approved for one even with bad credit is possible. The process for these online loans is faster. It doesn't require any paperwork. Your lenders will contact you to finish the process, review the terms of the loan, and discuss options for repayment.
Both online shopping and banking have opened doors for numerous companies and consumers alike. If you are browsing websites for payday loan apps instant you will find hundreds among which is Nearmeloans. It's one thing to be able to have the ability to transfer money between bank accounts without having to go to the bank to payday loan apps instant do so but now online applications make it possible to borrow money without ever leaving the house.
There's no shame in requesting an instant approval cash advance, almost everyone can use cash in an emergency situation. If you need it today, just fill out an application online and once you're approved the cash is sitting in your bank account. The process is simple if you have a current checking account, a steady job and you're at least 18 years old.
You should at least check out three lenders if you are looking for the best deal among them all. Interest rates are usually quoted depend on three conditions. They are the amount you need, the lenders terms and the laws of the state you live in. So, if you want to get the best rates in town you need to do your homework!
Remember that a cash advance should be used as a last resort. A cash advance loan must be repaid, if the payments will be too much burden for you then don't take out the loan. Don't forget to take the interest into account when working out the affordability of the monthly payments. Missed or late payments result in interest penalties and these can get big fast so you should consider a normal loan if you think you will need longer to pay it off.